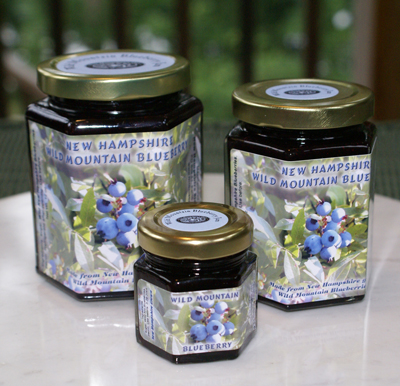 Wild Mountain Blueberry Jam
$6.75 - Net Wt. 12 oz. (Special order, delivery may be delayed up to three weeks)
$5.06 - Net Wt. 8 oz.
$1.59 - Net Wt. 1.75 oz.
Our gourmet Wild Mountain Blueberry Jam is made from the finest ingredients;
wild grown blueberries from the slopes of Foss Mountain in Snowville, New Hampshire,
sugar and Certo pectin. The Jam is made in small quantities in a New Hampshire licensed kitchen.
You can order now by downloading the Order Form and sending it with your payment.
The form is in Adobe Acrobat format, and if you don't have Adobe Acrobat Reader,
it can be downloaded for free at www.Adobe.com
Orders of case quantities receive wholesale pricing.